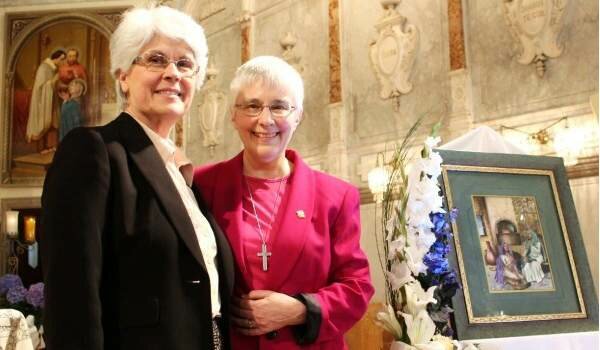 By Alan Hustak for VMO
Sunday, May 4th, 2014
Sheila Sullivan heartily recalls the day 50 years ago when she became a nun.
"I arrived at the Mother House in a bright, fuchsia-coloured suit. Friends of mine looked at it and said I wouldn't last a day as a nun. Look at me. I'm still here 50 years later and will renew my vows in a fuchsia-coloured suit. It's a miracle. "
Sullivan took her vows a member of the Sisters of the Congregation of Notre Dame with Danielle Dubois, who today is associate to the leader of the congregation, and with Maura McGrath, who went on to start the Refuge Jan Moreno for refugee claimants.
"In some ways, it feels like yesterday," says McGrath. "It seems we had twice as many sisters back then. But I'm not afraid of the future. We have a new wave of talented, gifted and dedicated members in Africa, Japan and Central America. "
The three nuns were among 31 CND Sisters who celebrated 50th anniversaries on Saturday at Notre Dame des Bonsecours chapel. The jubiliarians renewed their vows in the historic chapel in Old Montreal that holds the remains of their foundress, Saint Marguerite Bourgeoys. She established the uncloistered religious community in 1658. Two of the jubilarians came from Japan, four from the United States, and there were 25 Canadians.
The Mass was concelebrated by four priests, Msgr. Pierre Blanchard, Msgr. Andre Foisy, Rev. Jean- Louis Larochelle and Rev. Guy Chapdelaine.
In his homily, Father Chapedelaine reminded the nuns that their foundress held the Virgin Mary as a model.
"Marguerite Bourgeoys was truly blessed because she knew God personally and found her joy in hearing and obeying His word. An early martyr once said that a Christian's only relatives are the saints. Those who follow Christ enter into a new family, a family of saints here on earth and in Heaven. Our adoption as sons and daughters of God transforms all of our relationships and requires a new order of loyalty to God and to his Kingdom."
The Jubilarians: Pauline Desrosiers, Denise Rivard, Hugette Levesque, Marthe Vallerand, Lisette Drainville, Danielle Dubois, Yvette Dubois, Ghislaine Sirois, Emilie Maddix, Madeleine Lavoie, Louise Nicole, Bernice Daigle, Claire Vouchard, Murielle Boisvert, Anne-Marie Fortin, Paula Maher, Sheila Sullivan, Lorraine Abbass, Maura McGrath, Florence MacKenzie, Catherine Ann Crowley, Mary Ann McPartland, Maria Cassano, Elizabeth King, Jeanne Bonneau, Joan Mahoney, Patricia McCarthy, Mary Mazzam Monica Leonard, Hoshiko Yamashita and Yasue Tonari.